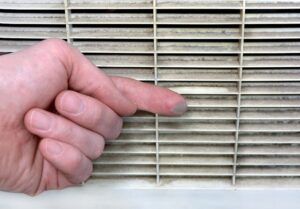 Have you ever wondered about the indoor air quality of your home? If you get sick frequently or experience allergy symptoms, the air inside your home may be to blame. Germs and bacteria get trapped inside without being able to circulate out. Then they multiply and spread, making it more likely that you will get sick.
But we have a solution. Give our team a call for air purifier services in Huntley, IL. You can keep reading to learn more about the five benefits of a whole-house air purifier and how they help the indoor air quality of your home.
Whole House Filtering
The number one benefit of a whole-house air purifier is that all of the air passing through your air conditioning system and blowing out into your home gets filtered. Sure, you can buy a smaller single-room air purifier. You may even notice a difference in your air quality. But, the bottom line is a small air purifier can only do so much for your indoor air quality.
As you move it from room to room, the indoor air quality is suffering in other rooms of your house. A whole-house air purifier eliminates all this extra hassle while also giving you the best possible results. You can enjoy up to 99% of all contaminants being removed from the air inside your home.
Reduce Bacteria
One problem with bacteria is that it can multiply and spread, really having a negative impact on your health. Even if you are wiping down surfaces, those particles are still floating through your air, recirculating again and again through your air conditioner.
The air filter on your air conditioner is really only designed to trap dust and dirt particles. Bacteria and germs are so microscopic that they can squeeze through and return through the cold air that your HVAC system returns to your home.
Reduce Allergens
If you suffer from allergies, your indoor air quality is a big deal. A whole house air purifier will illuminate all of the possible allergens that you are breathing in. Examples include pet dander, chemical odors, pollution from vehicles outside, mold and even pollen.
Many allergy sufferers don't want to spend too much time outside because of the assortment of allergens in the air. But the air inside your home can actually be five times more polluted than the air outside. So it's actually more likely that you suffer from allergens while you are indoors.
Set it and Forget it
A whole-house air purifier makes investing in your indoor air quality easy. You don't have to remember to turn your purifier on or off or move it from room to room. Instead, your air purifier works around the clock filtering air 100% of the time. The only time you have to do anything is once per year during annual maintenance. Our team will either replace your HEPA filter or your UV light, and you'll be good to go again for another year.
Improve Sleep
Did you know that your indoor air quality can actually impact your quality of sleep? If your indoor air quality is poor, you may be losing sleep without even realizing why. But if you have good indoor air quality without a lot of pollution, you will naturally sleep better. This is because your sinuses are not constantly being bombarded by bacteria and allergens.
Contact Althoff Home Services today to schedule an appointment with our professionals. Chicago's Choice Since 1961. Hand It Off to Althoff!