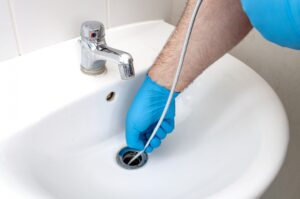 If you have plumbing problems that are deep in your system or hard to identify, a video pipe inspection may be just what you need. It's a great way to take the guesswork out of plumbing repairs, especially when it comes to problems that are out of sight.
If you think that you have a plumbing problem that would benefit from a video pipe inspection in Barrington, IL, give our team a call. You can keep reading to learn more about when we use video pipe inspections and how they help us with plumbing repairs. We are here to help with all of your plumbing needs and want to get the job done as efficiently and effectively as possible.
Saving Time and Money
Some plumbing problems happen in the drain lines inside of your home. They are easy to find and fix. But for the ones that are not easy to find, our team needs a little extra help. Enter the video pipe inspection. Instead of spending hours or even days trying to find the source of a plumbing problem, a video pipe inspection can do it in a small percentage of the time. This allows us to fix your plumbing problem with more accuracy, which saves both our team and your family time as well as money. After all, you don't want to pay more than you have to for fixing a plumbing problem.
Increasing Accuracy
A video pipe inspection does not just help us locate a plumbing issue. It also helps us see it up close so that we know exactly what we are dealing with. Otherwise, we may have to dig into your yard and see for ourselves before we even know what the solution might be.
A video pipe inspection gives us a head start on this so that we can fix your plumbing problem with greater accuracy. If we need additional tools or resources, we can get them together before ever taking anything apart. After all, without a video pipe inspection we won't know how bad the problem is until we lay eyes on it.
Reducing Impact
Plus, a video pipe inspection is downright easy. We insert the camera into your plumbing system to locate a problem and then remove the camera again. This research has absolutely no negative impact to your home or plumbing. Plus, we know exactly where to begin working when it comes time to you actually fix the problem.
Instead of digging large holes in your yard or taking out sections of your wall to reach plumbing, we can act with greater precision. This reduces the amount of cleanup we have to do and the amount have upset that you have to cope with after the project is complete. You have a more concise solution, and our team is in and out faster with less impact to your schedule.
Contact Althoff Home Services today to schedule an appointment with our professionals. Chicago's Choice Since 1961. Hand It Off to Althoff!