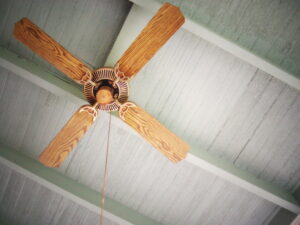 If you're trying to improve your home and your comfort, there are quick and simple ways to do this. One of which is to start using your ceiling fan a little more often. We know that ceiling fans are often parts of a house that come to a standstill and act more as decoration during the cooler months. But if you're looking to improve your home comfort, the ceiling fan is a good place to start. 
We want to help you with the services you need. We have the best electricians in Crystal Lake, IL. This means that you're going to get the best services possible alongside the best information. Contact us when you're ready to learn more.
How a Ceiling Fan Helps You
We'd like to start off by running through the basics of a ceiling fan. We know that if you have one in your home, that you're used to using it. But you should know that there's much more to your ceiling fan than you probably realize. We're going to run through all the details to make sure you understand just how much of an ally this system is in your home.
Ceiling Fans During Warm Weather
We know that you're probably accustomed to using a ceiling fan during the warm weather season. It's a great way to circulate air and cool yourself off. Although this is a system that we see homeowners use often in spring when the weather is mild, we also want you to know that it's a good idea to use it even when the temperatures get a bit more extreme during the summer. It's even a great thing to use in tandem with your home's air conditioner to spread the cool air around. If you're not using your ceiling fan like this, then we want you to get better service by doing this now.
Ceiling Fans During Cold Weather
Did you know that you can use your air conditioner during the cold weather season? It's as simple as flipping a switch. No, really! All you need to do is flip the switch at the base of your home's ceiling fan to get the ceiling fan to work for you in cold weather. Flipping the switch means that you're going to be able to push the warm air downward into your living space. This is a simple measure you can take to make things much easier for your home.
Why Professional Service Counts
If you ever run into problems with your ceiling fan, it's going to be important for you to contact a professional electrician. Ceiling fans might not seem like they're all that complicated, but if something goes wrong with one, you're going to put the functionality of your home at risk. Don't let your ceiling fan wobble, take too much time to turn on, or do anything else that seems abnormal. We can help fix or replace a malfunctioning ceiling fan. 
Contact Althoff Industries, Inc. today to schedule an appointment with our professionals. We've been Chicago's Choice Since 1961. Hand It Off to Althoff!