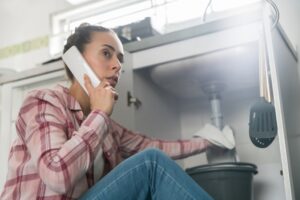 Are you dealing with plumbing problems in your home? This is something that we know is no walk in the park. Plumbing problems can become such a big issue because they're so insidious. It's not every day that you're looking into your pipes. Instead, it's as if your plumbing problems can sneak up on you because you can't see into your plumbing system. 
We want to help you work around problems like this. Imagine if you could take a look inside your pipe with a video camera. Would this be an easy and simple way to get past these issues? This isn't just a fantasy solution. It's something that we can actually do with the technology we have. Let's discuss the world of video pipe inspections below. 
How Video Pipe Inspections Work
Let's start off with a question that most of our plumbers in McHenry, IL hear. This is, "How exactly do video pipe inspections work?" The technology is pretty simple for it to be such a technological advancement in the HVAC field.
Video pipe inspections are exactly what they sound like. Professionals put a video camera into a pipe and look inside. From there, they're able to see exactly what's in your plumbing system. This means that they know exactly what they're getting into before they pull out any type of tool. This makes for more precise calculations, less mess, and less time spent in your home trying to get your home back to normal. 
The Various Benefits of Video Pipe Inspections
There are several benefits of video pipe inspections:
The Elimination of Guesswork
One of the best things about video pipe inspections is that they eliminate the guesswork that was involved in plumbing work of the past. In the past, plumbers might know that you have a plumbing problem. This would mean that they would have to guess where it is to find the source of the issue. The excess excavation could be as expensive as it is time-consuming. Video pipe inspections allow you to get right to the point.
Peace of Mind
Don't you want peace of mind when it comes to your plumbing system? You can't see into it, so sometimes, you can't know what's going on inside. Video pipe inspections eliminate the mystery and help you as a homeowner.
Less Time Spent Laboring
We know that our team of plumbers is some of the best. Not only are they efficient, they're also incredibly accommodating and friendly. Although they're great, we're sure that you don't want to have them in your home longer than need be. It's not always convenient to have professionals working in your home. In fact, it can throw a wrench in your entire day.
If you're trying to have great services performed as fast as possible, then a video pipe inspection is the way to go. This is the best way to get efficient service that eliminates any guesswork.
Contact Althoff Industries, Inc. today to schedule an appointment with our professionals. We've been Chicago's Choice Since 1961. Hand It Off to Althoff!