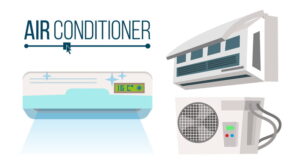 We're inching our way toward the official summer start date. As we get closer, the weather is going to get warmer and when this happens it's a good idea to keep an eye on your air conditioning system. Sometimes, there are things that might go wrong with your home's air conditioning system and you might not notice it right away. There are particular things that tend to go wrong in homes in our area at the start of the summer. If you don't know what's going to lead to AC repair in Algonquin, IL, then you've found the right blog. We're a team of professionals who can help you with the early air conditioning problems you're facing. We're here to help you with everything you need to keep you cool this summer. 
These Problems Need Repair
These are the problems that you should note and take care of as soon as possible.
Efficiency Issues
You'll know that you're having efficiency issues with your air conditioner if you notice that you're spending more money to feel the same level of cooling you're used to. If every time your energy bill comes in the mail during the warmer months your jaw drops, then efficiency might be the issue. The problem could be a loose, failing, or broken part. No matter what's going on, our technicians will assess your system, identify the problem, and work to solve it for you.
Inability to Cool
Do you feel like your air conditioner is no longer able to do its job? The inability to cool is an issue that you should address with the professionals on our team. This is the main job of your air conditioner, and if it can't do this properly, then it's time to rely on professional repair.
Excess Noise
Your air conditioner might click on start up and you're sure to notice the sound of air rushing through the system. These are the only sounds that you should hear from your air conditioner. Anything more is an issue that you should pass off to a professional.
Odd Cycling
Your air conditioner should run in an even manner. If your air conditioner starts, runs for a short amount of time, stops, and then begins again, then this is something called short cycling. The opposite issue can happen with long, irregular cycles. No matter what's affecting your home, our professionals will handle this issue. These are problems you should urgently address because it's an efficiency problem that will negatively affect the functionality of your system.
Unpleasant Scents
Have you noticed that your home doesn't ever smell the way you want it to? The problem with this is that your air conditioner should never give off foul scents. If your home is starting to smell musty whenever the unit runs, then it could be a sign that something is off with the AC system. You might have build-up on the internal coils or even troubles with your ductwork.  
Contact Althoff Industries, Inc. today to schedule an appointment with our professionals. Chicago's Choice Since 1961. Hand It Off to Althoff!