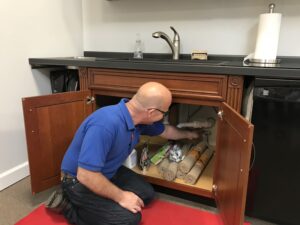 As a homeowner, you should be completing your own inspections of HVAC systems, appliances yes, even your plumbing. You may not be an expert in any of these fields, but you can identify when something is unusual or out of place and then give us a call to check it out.
But what should you look out for when you inspect the plumbing around your home? We compiled a checklist to help you know where to look and what to look for when you complete your own plumbing inspection in Crystal Lake, IL. Remember: if you're a White Glove Club member with us, an annual plumbing inspection is included with your membership.
Signs of Water Damage
One of the first things you should look for around your home is signs of water damage. If you have a leak inside one of your walls, floor or ceiling you may not know about it until the signs of water damage appear. Watch for dark spots or other areas of discoloration that are new. You can also pay attention to your floors to watch for signs of warping or unexplained wet spots.
Loose Fixtures
You also want to note any fixtures that appear to be loose. This may include faucets, shower heads, drain fixtures, and even the pipes themselves. You can gently try to move fixed plumbing items to see if there is any give. If so, call our team to schedule a plumbing tune-up. We can address any plumbing needs that you have and make sure that all of your fixtures are secure.
Leaks
We already talked about the hidden signs of leaks, but you also want to pay attention to obvious leaks. Leaks can happen from pipes themselves, for example under a sink. But leaks can also happen from faucets and showerheads. If you turn your faucets completely off and water still drips out, that's a problem. You could be wasting thousands of gallons per month because of a drip. Aside from wasting water, your water bill is also more expensive than it needs to be.
Backups
After turning on a faucet anywhere in your home, the water should drain out quickly. If water backs up into your sinks or tubs and takes longer to drain out, there is likely a clog somewhere in the drain line. Addressing it sooner rather than later will be easier. The longer you put off a plumbing appointment for a clog, the worst the clog will be.
And water backups are not just annoying. They also allow bacteria from inside the drain lines to enter your home, putting your family at risk for getting sick. Your drain lines have a P-trap that prevents sewer water from wafting up into your home. But a back up negates this feature and allows harmful particles to enter your home when they otherwise would not.
This review from one of our recent customers says it all, and shows how we'll keep your safety (and comfort) in mind at all times.
"It was just a plumbing inspection but the Althoff guy found a simple but serious problem with the water heater exhaust pipe- it could have caused a disastrous fire. He fixed it in minutes at no extra charge. Are we happy we had the inspection?!?"
Contact Althoff Home Services today to schedule an appointment with our professionals. Chicago's Choice Since 1961. Hand It Off to Althoff!