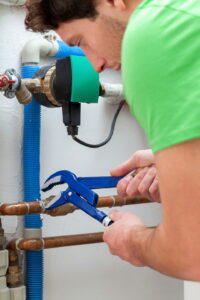 There are some times when you have plumbing problems in your home and you can make a DIY repair. But there are other times that plumbing problems really call for a professional. In fact, some plumbing problems are a big enough deal that we actually have to pull permits to complete the job.
If you need a plumber in Hinsdale, IL, you're in the right place. Even if you don't know what exactly is wrong with your plumbing system, you can give us a call and we can help you troubleshoot. You can also keep reading to learn more about the three common plumbing problems we see that require the help of a plumbing professional.
Drain Clogs
Drain clogs are tricky because you may think that you can fix them very easily on your own. Nearly every grocery and hardware store carries chemical drain cleaners. They boast that you can pour the substance down your drain, follow a few steps and enjoy clog free drains again.
What they don't tell you is that these chemicals are also damaging your plumbing in the process. In fact, they can leave behind a residue that increases your risk of having clogs again in the future. Plus, they corrode your pipes over time so that they won't last as long. You may be more likely to have leaks and other plumbing problems as a result of using these over the counter chemicals.
If you do have a drain clog, we encourage you to give us a call. No issue is too small or too big for our team to address. We are always happy to help, and even offer advice for what to do if you face the problem again in the future. If you have persistent clogs that don't seem to go away, you may have an issue deeper and your plumbing system that we can take a look at.
Leaks
Leaks can be unsuspecting because they can be so quiet or hidden. You may not even realize you have a leak until you notice the water damage that it creates. And leaks are also very dangerous, even though it's just water. Leaks can damage areas in your home, including the actual structure of your home.
Plus, they create the perfect environment for mold and mildew to develop, also posing risks to your family's health. It's easy to think that you can search for a DIY tutorial online and take care of a leak on your own. We encourage you to leave this task up to us. Even with the best intentions, you could do something wrong that leads to more damage and an even bigger problem.
Water Heater Issues
We also see a lot of water heater issues. Since your water heater is out of sight, it can be easy to miss the early signs of water heater problems. This can result in larger issues that can demand your attention. Just like leaks, it's easy to do a quick search online and think that you can replace a valve or fix a problem related to your water heater.
And just like leaks in your home, we really discourage you from attempting any DIY plumbing repairs related to your water heater. A leak can be caused by a number of things, and our team may have to do some troubleshooting to get down to the root problem.
Contact Althoff Home Services today to schedule an appointment with our professionals for plumbing repairs. Chicago's Choice Since 1961. Hand It Off to Althoff!