Are you continually waking up with a scratchy throat, stuffy nose and puffy eyes? The air quality inside your house might be to blame.
If your home's indoor air quality is less than ideal, it can have dangerous short-term and long-term effects on your health. Poor indoor air quality is typically a combination of environmental, hygienic and climate-related causes. Fortunately, improving your home's air quality is affordable and straightforward when you understand the reasons for poor indoor air quality.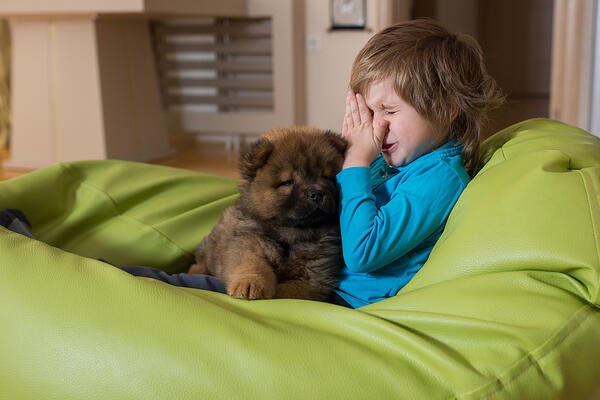 What Causes Poor Indoor Air Quality?
1. Cleaning supplies. Many household cleaning products contain strong chemicals that leave behind dangerous fumes. While you're cleaning your surfaces, these chemicals are polluting the air inside your home, especially if you're cleaning in a room with poor ventilation. The toxicity of household cleaners depends on the brand and the type of cleaner you're using. Typically, bathroom and kitchen cleaners contain the most dangerous fumes.
2. Pet dander. Most of us consider our pets as part of the family. Dogs and cats especially, while cute, loyal companions, can impact the air quality inside of your home. Pet hair and dander can collect on carpets and blow around in the air, which can cause respiratory problems when it accumulates inside of your home.
3. Carpet fumes. If you've recently installed carpet into your home, you may have noticed a new smell. The carpet's backing and the adhesive that bonds the carpet to the floor both contain chemicals. The carpet releases these fumes over time, which can cause headaches, nausea and dizziness. Additionally, carpet can harbor dirt, dander and allergens. If you're particularly sensitive to fumes, or if you have a sensitive respiratory system, carpet may not be the best choice for your home.
4. Mold and mildew. Mold and mildew rapidly grow when there's a lot of moisture in the air. When mold grows, it releases spores into the air that can cause dangerous respiratory health effects. Mold and mildew are typical problems in bathrooms, basements and kitchens.
5. Pesticides. One of the most uncomfortable things you can deal with in your home is an invasion of pests. Ants, cockroaches and spiders can be a startling sight to see in any home. On the other hand, the pesticides used to treat and prevent pests can damage your indoor air quality. The chemicals in pesticides are strong enough to kill insects, and the fumes can affect your respiratory system if the area isn't well-ventilated.
6. Paints and varnishes. You'll recognize the smell of polyurethane if you've ever walked into a house with freshly refinished hardwood floors. Likewise, most people are familiar with the scent of a newly painted room. While these smells can be a sign of a finished project, the fumes also affect indoor air quality and can trigger respiratory problems.
7. Poor air circulation and ventilation. When it comes down to basics, poor indoor air quality is generally the cause of poor air circulation and ventilation. As the air gets trapped in your home, dust, debris, pollen and fumes don't have a quick way to escape your home. There's also a lack of fresh air coming into your home, which is essential for controlling indoor air quality.
How to Improve Your Indoor Air Quality
First, the simplest and most affordable way to improve your indoor air quality is by increasing the ventilation and circulation within your home. By opening windows and doors, you're allowing fresh air to enter your home and replenish the poor air inside of the house. Along the same lines, cleaning your ductwork and regularly replacing your air filter helps improve the indoor air being recirculated by your HVAC system.
Additionally, consider purchasing an air purifier or an upgraded air filtration system to improve your home's indoor air quality. These devices can help clean the air inside of your home if you're unable to improve ventilation.
In most areas prone to mold and mildew buildup, consider investing in a dehumidifier to lower the humidity in the air and prevent mold growth.
Click here to learn more about the indoor air quality solutions at Althoff.
We Can Help You Breathe Easier
Measuring air quality and nailing down the cause of poor air quality can be tough. Althoff Industries employs experts in ventilation, whole system humidifiers and dehumidifiers, air purifiers and duct cleaning services to help improve your home's air quality.
Do you have questions or concerns about your home's air quality? Contact our expert team today to discuss which indoor air quality solution is right for your home.