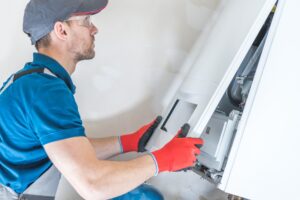 It's been all over the news–the prices of gas and electricity have gone up tremendously, to the point where a lot of homeowners are struggling to meet their home comfort demands. Unfortunately, most of us don't have a choice when it comes to our utility bills. We practically rely on electrical appliances and devices to live life or work from home, and our gas furnaces are our best friends when fall and winter arrive.
Today, we want to talk about a few strategies we can help with to combat these price hikes. Our team wants to keep your home and life comfortable without breaking the bank.
Breaking Down the Numbers
Here are just a few examples of the utility price hikes we're talking about:
NICOR (gas): Prices up 137% since last August.
Com Ed (electric): Prices up 63% since last August.
North Shore Gas: Prices up 84% since last August.
Peoples Gas: Prices up 72% since last August.
These price hikes are budget-breaking for a lot of families in our area, so we thought it was necessary to talk about some improvements that can be made to deal with them. We don't know when these prices will go back down, or if they won't keep increasing, so preparing now is the best option.
Upgrade Your System to a High-Efficiency One
Hands down, the best thing you can do for your home efficiency is to replace your old heating or cooling system with a new one. Newer models are more efficient, which means they use much less fuel or energy to do the same job.
Upgrading Your Furnace
We recommend upgrading your gas furnace to a system with an AFUE rating of 90+. This will ensure that the system only uses a fraction of the gas that an older, less efficient furnace would. With gas prices skyrocketing, this is bound to save a lot of money on your monthly heating bill.
It's Time to Go With a Heat Pump
Did you notice that electricity prices haven't risen as much as gas prices? This is true almost across the board. One way to deal with this situation is to replace your old heating or cooling system with a heat pump. These units are extremely efficient, work as both heating and cooling units, and they only run on electricity. This can save you 30-40% on your monthly heating bill, just by switching to electric!
Interested in switch? Click here to look at one of our recent promotions to save big on a new eligible heating system.
For more information or helpful tips to save money, contact the Althoff Home Services team.