There's nothing worse than coming home after a long day at work to a house full of water. 30+ gallons of water sure seems like a lot when it's accumulating throughout your home.
Despite advancements in engineering and product manufacturing, most tank water heaters have a 10 to 15-year lifespan. The good news is, the earlier you catch a water heater leak, the better. Plus, not all water leaks indicate you'll need to replace the entire unit.
If your water heater is just starting to leak, act quickly before you need an expensive repair, or you have a flash flood on your hands.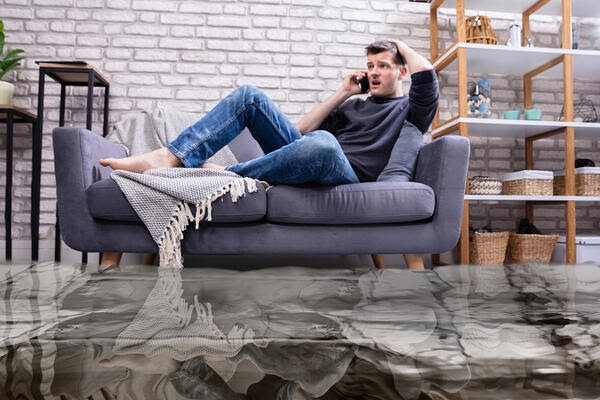 Safety First!
Remember, when dealing with a leak, your water heater gets hot enough to cause first degree burns. There is also electricity going to your water heater, which can cause a severe electrical shock.
So, before inspecting and working on your water heater, be sure to turn off the power at the circuit breaker and turn off the water supply.
Check to See What's Causing the Leak
With a tank water heater, there's water coming in, water heated in the tank, and water flowing out.
Water is constantly flowing through the appliance, so there are several places to inspect to see where the leak is coming from.
Loose connections
Check to make sure the connections to and from the tank are tight and that the lines don't show any signs of damage or excessive wear.
You can tighten these connections yourself pretty easily. If you are nervous, you can always contact a professional to come and assist you.
Leaky elbow joints
While inspecting the connections, check any joints in the piping. These areas can experience extra stress as water flows to and from the tank.
These likely need to be replaced or tightened.
Temperature and pressure valve
As the water heater heats the water in the tank, it creates gas and pressure. The temperature and pressure valve safely ensures that your water heater tank doesn't explode. There should be a vertical pipe that runs down the side of your tank that stops just a few inches above the floor.
Usually, if the temperature and pressure valve is leaking, there will be a puddle below this pipe or water stains on the floor.
This is a slightly more advanced repair and best performed by a professional who is familiar with water heaters.
Water heater tank drain valve
Every tank water heater has a drain valve located near the bottom of the tank. Over time, sediment at the bottom of the tank can wear down the seal on the drain valve and cause a leak.
If this part is to blame, you should be able to see water or water staining around or below the valve.
The drain valve will need to be replaced if this is the source of the leak.
Leaky gaskets
If you have an electric water heater, it contains gaskets to protect the electric heating elements from contacting water. Electric water heaters will have a hatch that allows you to inspect the electrical connections and check for signs of moisture.
If you see signs of moisture here, contact a professional as this can be a dangerous repair to attempt without experience.
Failing water heater tank
When water flows through the tank, it carries a small amount of minerals and sediment in the water supply.
As the tank heats the water, this sediment settles and builds up at the bottom of the tank. Eventually, this sediment will erode through the tank's lining from the inside. If you notice water pooling below the tank and a significant amount of rust, it's time to replace your water heater.
How to Prevent Water Heater Leaks
Water heater leaks are an eventual pain almost all homeowners will experience at one point or another. If you've experienced any kind of leak before, you'll know that water damage is messy and expensive. However, there are preventative maintenance tips you can follow that will help prolong the life of your water heater and help you catch a small leak before it boils over into a flood.
Drain your water heater annually
Sediment can gradually cause serious damage to your water heater over time. One way to lessen this damage is by draining and flushing your water heater tank annually. This procedure can also help your water heater function more efficiently.
Inspect your water heater regularly
It's easy to forget about your water heater until you experience a warning sign like no hot water when you shower, or you step on a sopping wet carpet. Water heaters are usually tucked away in your basement or in a utility closet so it can be hard to remember to inspect them. Make a habit of inspecting your water heater periodically to check for excess moisture and leaks.
You can always set up a prescheduled maintenance plan with the Althoff team to ensure that your water heater is good to go and leak-free all year long.
Need Help With a Water Heater Leak or Maintenance?
Althoff Industries has plumbers available to help with all your water heater needs 24/7, 365 days a year. If you're in the Chicago area, give us a call at 815-455-7000 and schedule an appointment today.