We're always looking for new ways to save money without giving up the small luxuries we love. By switching to energy-efficient appliances, you could save hundreds of dollars per year.
Better yet, you'll be keeping more money in your pocket, instead of paying it to the utility companies. That means more vacations and less painful bills and this switch will have minimal impact on your life.
Not only are energy-efficient appliances good for your wallet, they're also beneficial for the environment as well. You'll sleep easier knowing you're making smart environmental and financial decisions.
Energy Star Appliances and SEER Ratings
If you've purchased an appliance in the past 25 years, you're probably familiar with the Energy Star label. Energy Star is a U.S. Environmental Protection Agency voluntary program that helps businesses and individuals save money and protect our climate through superior energy efficiency.
According to the Energy Star website, "Since 1992, Energy Star and its partners helped save American families and businesses nearly 4 trillion kilowatt-hours of electricity and achieve over 3 billion metric tons of greenhouse gas reductions, equivalent to the annual emissions of over 600 million cars. In 2017 alone, Energy Star and its partners helped Americans avoid $30 billion in energy costs."
SEER stands for "Seasonal Energy Efficiency Ratio," and is the efficiency rating of an HVAC system, which measures the efficiency of specific appliances in your home. The SEER rating of an appliance—your AC unit, refrigerator, or your heating system—is based on a number of factors.
It is also important to note that the higher the SEER rating, the more energy-efficient the appliance will be.
Energy-Efficient Appliances Use Less Energy and Save You Money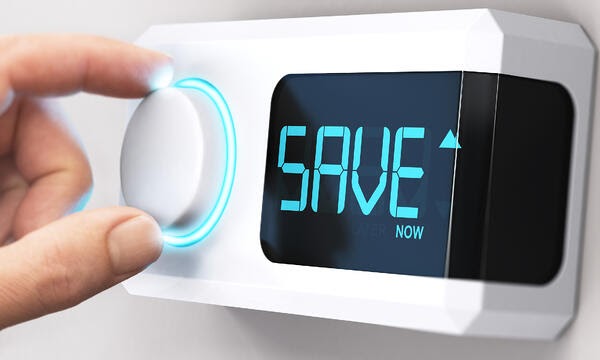 Customers often wonder how they can save money by dropping money on new energy-efficient appliances when their older models seem to be functioning just fine.
Energy-efficient appliances can help you save money by using less energy and resources such as electricity, gas, and water.
Remember that your gas, water, and electricity bills aren't set in stone. Utility companies charge based on the amount you consume every month.
Energy-efficient appliances use fewer resources than older appliances to complete the same task, which lowers your monthly utility costs.
Dryers
Dryers generally consume the most energy of any appliance. According to the Natural Resources Defense Council (NRDC), a typical household dryer consumes as much energy per year as an energy-efficient refrigerator, washing machine, and dishwasher combined. If you have an older model, that number could be even higher.
Energy Star certified dryers use 20% less electricity than a conventional model, which will save you a significant amount of money on your energy bills over time.
Washing Machines
Pair that energy-efficient dryer with an energy-efficient washing machine, you'll enjoy even bigger savings on your monthly bills.
An Energy Star certified washing machine uses about 25% less energy and 33% less water than regular washers, according to Energy Star.
Energy Star also estimated that there are 74 million top-loading washers and 24 million front-loading washers—26 million of which are at least 10 years old—still in use across the country and these inefficient washers cost consumers about $4.7 billion each year in energy and water.
Energy-efficient front-loading clothes washers also require less laundry detergent than top-loading washers, so you save more money from week to week!
Refrigerators
There have been significant advances in the technology used in refrigerators over the last decade or so, which means that outdated refrigerators are using a ton of extra energy in many homes to this day.
The Energy Star certified refrigerators available today are around 10% more energy-efficient than models that meet the federal minimum energy standards.
If you have an older refrigerator, you can save even more on your energy bills by upgrading to a more efficient option. Energy Star certified refrigerators use up to 40% less energy than the conventional models sold in 2001.
Energy-Efficient HVAC Systems
By upgrading the HVAC system in your home, you will likely see a significant return on your investment over time.
Now, it may seem like a lot of cash upfront, but if you keep your new system well-maintained you will definitely see the savings in the long term.
According to the DOE, the most efficient central AC systems today use 30% to 50% less energy than those built in the mid-1970s. Even when a 10-year-old unit is replaced, the new air conditioner can cut cooling costs by anywhere from 20% to 40%.
In addition to that, heating your home actually costs you the most money, making up about 42% of your utility bill according to energy.gov. An outdated system with a low SEER rating is likely costing you a lot more monthly than you would like.
We have come really far when it comes to the technology available in modern HVAC systems in the last 20+ years. Talk to an expert and find out which HVAC system is right for your home so you can start saving.
Other examples of energy-efficient appliances available to consumers include:
Cooking appliances
Dishwashers
Toilets
Water heaters
Are You Considering Making Energy-Efficient Improvements to Your Home?
Maybe you are ready to take a step towards a more energy-efficient home and cost savings or you're already there and your energy-efficient HVAC system needs maintenance. No matter what your case is, the experts at Althoff Industries can help with your energy-efficient appliance needs.
We've been serving the Chicago area for over 60 years, so we've done our fair share of energy-efficient home improvements. Contact us at 815-455-7000 and schedule your appointment today!