Electricity is something people take for granted because of how prevalent it is in our daily lives, but electrical safety is no joke. People can get seriously injured by electrical shocks in the home.
Electricity, water, and humans are a bad combination, which is why GFCI outlets were invented. GFCI stands for Ground Fault Circuit Interrupter, and it is a type of electrical safety precaution that was invented to decrease the likelihood of people suffering from electrical shocks while they are in areas of the house that contain water sources.
Standard electrical outlets provide no protection against ground faults, making them extremely risky to use, especially when they are located near water. If your house has no GFCI technology embedded into your high-risk outlets, then there is a significantly increased chance that you could get electrocuted.
Below you can find our guide to GFCI outlets, including where they should be located in the home and what to do if one is malfunctioning.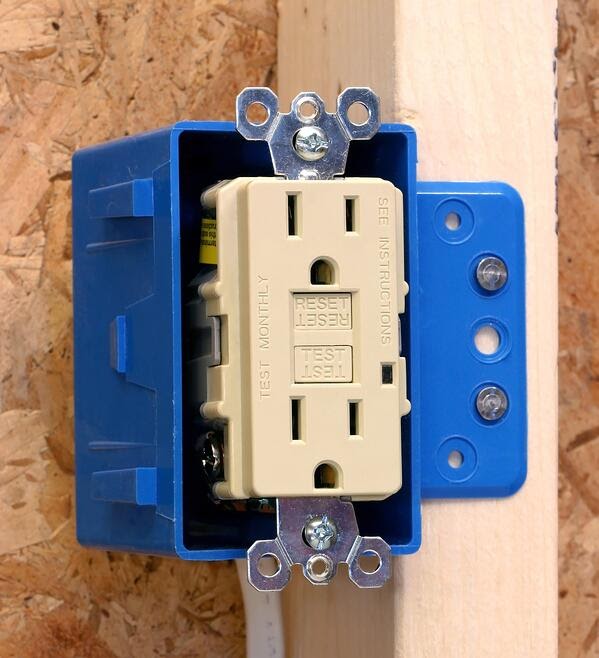 What Is a Ground Fault?
First, we should probably explain what exactly a ground fault is.
A "fault" is an electrical term that describes an instance where electricity deviates from its intended path, and a "ground fault" is when electricity takes an unintended path to the ground.
See, when electricity is not in a controlled environment, it makes a beeline toward whatever is the best conductor in the immediate vicinity. This is why most lightning strikes the ground, because the ground is one of the best electrical conductors there is.
In the home, electricity is contained within wires that are covered in an insulating material such as plastic or rubber. This prevents the electricity from escaping and flowing through a different conductor, such as water, the ground, or a person.
Unfortunately, wires can get frayed or damaged which can break the insulation keeping the electricity at bay. When the power source is turned on this can cause a person to become electrocuted which can lead to serious injury or even death.
Standard electrical outlets have no safety features installed within them to prevent people from being electrocuted and these standard outlets were the only ones used in homes built before the 1970s.
Thus, a safety measure had to be invented in order to significantly reduce the chances of this occurring.
What is a GFCI Outlet?
GFCI protection technology was invented in the 1970s and GFCI outlets began to be used in place of standard electrical outlets in certain high-risk areas of the home.
Any electrical outlet that is located in an area of the house containing a water source (i.e. bathrooms, kitchen counters, etc.) is required to be outfitted with GFCI technology.
A GFCI outlet contains sensors that continuously monitor the surge of electricity within the wiring. When a fault is detected, the GFCI immediately shuts off the flow of electricity to the outlet.
This response typically occurs within thirty milliseconds, so the person using the outlet may still receive a painful electric shock. A sustained surge of electricity to the human body is what can cause more serious problems and GFCI is designed to prevent.
Where Should GFCI Outlets Be Installed?
Areas of the house that are required by law to use GFCI protected outlets include kitchen counters, bathrooms, garages, laundry rooms, unfinished basements, and within six feet of wet bars.
Other areas of the house like bedrooms and living rooms that don't contain water sources are not required to use GFCI receptacles, as there is not much risk of electrocution in those areas.
Houses that are built after the year 2014 require GFCI circuit breakers to be installed during construction, so that the entire house receives GFCI protection.
However, if you live in a house that was built before the 1970s, then all your outlets will be of the standard variety and contain no GFCI protection. If this is the case, then you should most certainly have your existing outlets replaced to reduce your risk of being electrocuted.
According to the Electrical Safety Foundation International (ESFI), electrocutions are down more than 83 percent since the 1970s when GFCI technology was introduced, which goes to show how important GFCI is.
What to Do if a GFCI Outlet is Malfunctioning
You can tell if an outlet has GFCI protection because it will have two small buttons between the receptacles labeled "RESET" and "TEST." Every so often the GFCI will trigger and shut off electrical flow to the outlet when a fault has not actually occurred.
This could happen for a variety of reasons, but one of the most common is static electricity occurring near the outlet.
The GFCI protection activating by mistake every once in a while is no big deal, as it can be activated again by simply pressing the "RESET" button and turning it back on.
Pressing the "TEST" button allows you to check and see if the outlet is working properly. A GFCI outlet shouldn't require much in the way of maintenance, but it doesn't hurt to hit the test button once every month or so just to make sure that it's working.
If your outlet tests back negative or is repeatedly shutting off without reason, then you should probably get it replaced. If you have experience with electrical wiring, then you can probably do it yourself.
If not, then you should call a professional to come fix it for you. An inexperienced person can get seriously injured by messing around with the wires.
On the other hand, if you live in an old house or you have standard outlets located in areas where GFCI outlets should be, then you should absolutely have them replaced. If you don't, then you are putting yourself at unnecessary risk.
Althoff Industries has been servicing the Chicago area for many years. Whether you have just a single malfunctioning outlet that needs to be replaced or you need your entire house to be outfitted with GFCI technology, Althoff has got your back.
Call us at (844) 202-7430 if you have an emergency electrical issue that needs to be taken care of or visit our website to view all of the services that we provide.