A broken garbage disposal can be a major headache. It can completely disrupt your usual dishes routine and lead to clogs in your drain. Luckily, if you're having issues with your garbage disposal, there are ways you can fix it.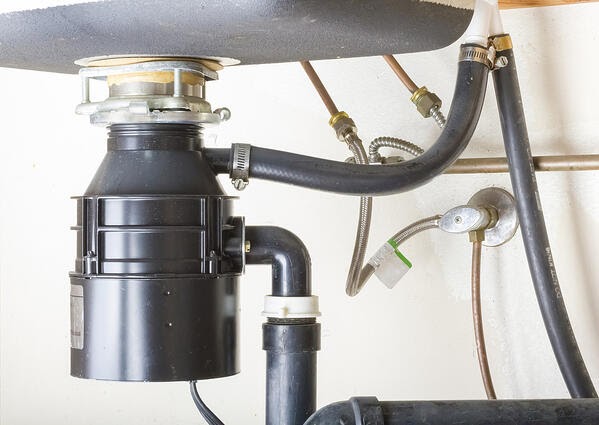 Potential Issues With Your Garbage Disposal and How to Fix Them
There are several problems you could be having with your garbage disposal. Here are a few of the most common problems that occur with garbage disposals and what you can do to fix them.
Garbage Disposal Won't Turn On
One of the most common problems that homeowners face with their garbage disposal is that it won't turn on when they flip the switch. The good news is that this is often a simple repair process.
If your garbage disposal won't turn on, there could a problem with your power supply. If you think this is the case, locate the reset button on the bottom of the disposal and press it.
If that doesn't work, check your circuit breaker to see if the switch that supplies power to the unit has been switched off. If neither of these options works, then you may need to get your plumbing repaired by a professional.
Humming Noise or Slow Drainage
If your garbage disposal is humming but is not grinding any food waste, or your sink is becoming flooded with water and debris, there may be a jam within your garbage disposal.
Due to the amount of food, waste, and debris that gets shoved into a garbage disposal, this problem is also fairly common. Luckily, this is another traditionally easy repair that often involves removing an object that has been wedged into the disposal.
First, turn the disposal all the way off so that you can safely inspect the blades. Yes, this means turning off the power to your disposal. You don't want to risk losing any fingers!
Then, take a flashlight and take a look around the interior of the garbage disposal. Once you have identified the foreign object causing the jam, use a pair of pliers to remove the item.
Afterward, run water down the disposal to remove any excess debris that might still be caught. Then, run the garbage disposal.
Garbage Disposal Leaks
Over time, the vibration from the garbage disposal can loosen its connection, causing water to leak from your sink drain and into the base of the cabinet below. In most instances, the cause of the leak is due to the flange that attaches the disposal to the bottom of the unit.
To fix the leak, turn off the power to the garbage disposal and remove it from its mounting flange. Next, loosen the bolts and push the flange above the sink surface. Apply a new plumber bead between the flange and the sink.
Afterward, reattach the flange, bolts, and disposal and reconnect the power to ensure your disposal is working correctly. If the leak continues, you may need to call a plumber to have the garbage disposal replaced.
Contact Althoff Industries for Emergency Plumbing Services
Although the garbage disposal may seem like an uncomplicated piece of machinery, it often causes problems for homeowners. If you have tried everything mentioned above and are still having issues, it may be time to call a professional.
Severe plumbing problems shouldn't wait, which is why it's critical that you have an emergency plumbing service on call, no matter what time of day it is.
At Althoff Industries, we provide our Chicago, Illinois customers with around-the-clock emergency plumbing repair services. We make sure that you never have to worry about the plumbing in your home.
Whether you need routine maintenance, emergency repairs, or new plumbing installed in your home, we provide licensed and specialized plumbing services to our neighbors in Northwest Chicago.