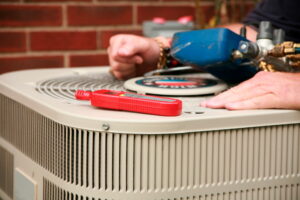 Deciding to install a new air conditioner is a big commitment. Aside from the financial investment, you have to set aside a whole day for the installation process. It's definitely not a decision to take lightly.
After deciding to you schedule AC installation in Crystal Lake, IL, you may be wondering what to expect during the appointment. How long does it take to install an air conditioner? Keep reading to learn more about the AC installation process, including how long the appointment will take.
Installation Timing
First, it is important to understand that AC installation is not a process that you want to rush. Having a longer AC installation time is not necessarily a bad thing. It means that our team is taking their time to get the job done right the first time. AC installation usually takes somewhere between six and eight hours, although in some cases it may take longer.
Removing Your Old Unit
The first steps in installing your new air conditioner actually involve taking out your old one. First we have to remove the indoor unit as well as the outdoor unit and any connections that are old and worn out. Then we can replace those older connections with new ones. We want to do everything possible to set up your new air conditioner for success. After all, installation has a lot to do with how efficient your air conditioner will be over its entire lifespan.
Aside from replacing connections, we also want to make sure that the foundations for both of your units are safe and secure. Usually the indoor portion of your unit sits up off the ground in a closet. We want to make sure that the wood underneath your unit has not rotted or warped. If it has, we can replace the wood before installing your new unit. We also check the foundation on the outside of your house, which is usually a concrete block that the outdoor portion of the unit sits on. It should be level and up off the ground without sinking.
Setup and Testing
And now it's finally time to install your new air conditioner. We will set everything up and then complete a couple of hours worth of testing on your air conditioner. This helps us to ensure that we reach the right level of pressurization, refrigerant charge, and that the connected ductwork is channeling air properly through your home. You want your home to be consistent level of cool across all of the rooms, so the testing process is very important. In fact, testing alone can take up to two hours to complete.
After that, we will review with you how to use your new air conditioner. You've probably used a lot of air conditioners across your life, so you may not be too concerned with understanding how to operate it. However, each air conditioner is unique and we want to make sure that you understand how to work your particular unit. We can even offer tips for maximizing efficiency and saving money on your monthly energy bills.
Contact Althoff Home Services today to schedule an appointment with our professionals. Chicago's Choice Since 1961. Hand It Off to Althoff!